She's a vintage Simba rearing Vinyl Pony, and I found her in a mixed lot of ponies and fakies on ebay. There were a couple of other G1s and fakies I wanted in that lot, but I'll admit my primary reason for bidding was because of her. I'd never seen anything like it before - what if she was a new vintage fakie variant? We all know about the yarn-haired PRnS and Sunshine Ponies, what about yarn-haired Vinyl Ponies? How special would it be, to own her, a truly rare fakie?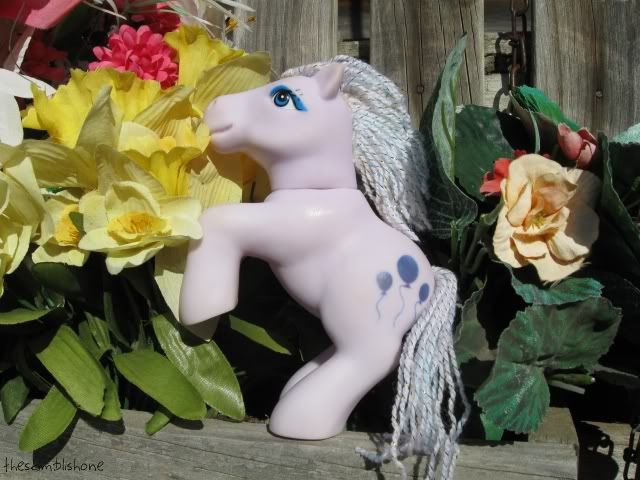 She arrived on Friday. Her mane and tail had fallen out at some point, and a previous owner had rehaired her with glittery wool. They'd done it by cutting two slits in her mane with a stanley knife and gluing in the wool inside and out (it's enough to make a customiser faint!); her neck is smothered with old yellow super-glue.
She's not rare. She's actually damaged beyond repair, if I pulled out her sparkling woolen mane; her broken plugs would never hold the roots of a new nylon mane.
Someone though, loved this toy enough to give her a whole new mane and tail, to glue it in so it wouldn't fall out, so Woolly could be played with again. When so many collectors are throwing out fakies because they are worthless - when even I, a fakie collector, have thrown out fakies because nobody would want them - someone restored Woolly as best they could.
Which makes me think about fakie collecting. Why are we collecting fakies? Because they're adorable, because they need love, because it's another kind of pony to collect with less competition for our collections, because it's another collecting terrain to explore, because we have our own kinds of rares and nirvanas, and owning those gives us a kind of collecting status? Because we're rescuing toys that have served a purpose as noble as any MLP?
I started recollecting fakies because they were gorgeous and nobody seemed to care about them, because they were in need of love and would fit in with my herd, because they were a wonderful thing to collect without paying ridiculous amounts of money - and because they reminded me of my childhood toys. But I guess I'd started to think about their rarity value, too, given that my favourites are the harder-to-find Simba fakies of my childhood. How nice it would be to own a really rare fakie, own a special pony nobody else has - the fakie Ladybird or South African Applejack? It's too easy to get caught up in the rarity aspect that can take over mainsteam MLP collecting - when that's what fakie collecting shouldn't be about at all.
Woolly's not a rare fakie. But she was a fakie who was loved enough by some child that a parent restored her - and that's why I really collect fakies, in the end. Because they're as wonderful as MLPs, and as deserving of as much love, and I don't care if they're worth nothing at all. It's not about whose got the most or the rarest; it's about enjoying ponies that are just as special as any other fakie or even the real thing - even if they're a knock-off fake!Remco with their hair falling out.
Woolly's my own new mascot for fakie collecting, the star of my herd, and I'm lucky to own her exactly the way she is - because she's exactly why I started and want to continue collecting fakies!
Meet Woolly.


I've also decided to make chattery, update or brag posts 'friends-only' so that the casual viewer of this journal will only see what they've come here to see - the information posts. I've gone through and friends-locked most chattery/brag entries and made private a few no-longer-relevant announcements, just to clear away the clutter. I'll start doing this on a periodic basis just to make this journal easier to read.

I still have to update many posts with new pics (or swap the pics URLs to their new host location) so that will be coming over the next few days. Another long-term project is to make a gallery here on Scrapbook, so that anyone who just wants to view pictures without wading through pages of text can do so. I'm also considering including other kinds of fakies in this gallery as well.

My profile/bio has been massively updated, with information about this journal itself as well as the two My Little Fakie communities, so it's a great deal more interesting to read! I've included contact details for non LJ users to reach me (nothing should stop the sharing of fakie information!) and links to the MLF message board.

Oh, and yeah. The pink. Because there's nothing wrong with lots of pink!

In future there will be more modern-fakies posts, some more pose guides, and a couple more fakie theory posts. Despite all appearances, I have't dropped off the face of the earth, and I'm looking forward to updating this journal more often from here on in!
... a few changes around here! The MLP Fakie Project is undergoing a massive overhaul at the moment, while I go around and do all the updates and changes I keep meaning to do, and didn't. To start with, I'm including more links to posts in the sidebar to make things easier to find; every information post should be linked somewhere to a category in the sidebar so you don't have to trawl back through every entry in this journal.
Current Mood:

chipper

Current Music:

Oronar - Luna Obscura
A helpful post (which will be linked in the sidebar for easier navigation) that will be continually updated with all the links to post-1995/post-2000 or modern fakies!
Walgreens ponies
, comprised of eight different sets of fakies, feature seven different poses, most of which have been rereleased in the US/UK Pony Land sets, the UK Together Friends sets, and the Scandinavian 'Pony' sets. Half of these poses are brand new or variations of older poses, so this journal entry is an evolving guide to the different poses in these sets!
The
Dream Pony variant pose
is an updated, glass-eyed version of the
Dream Pony/Tootsie pose.
The body mold is identical; the head, however, is somewhat different, with a squarer, open mouth, wider cheeks and inset glass eyes. She comes from the Pretty Pony Family sets: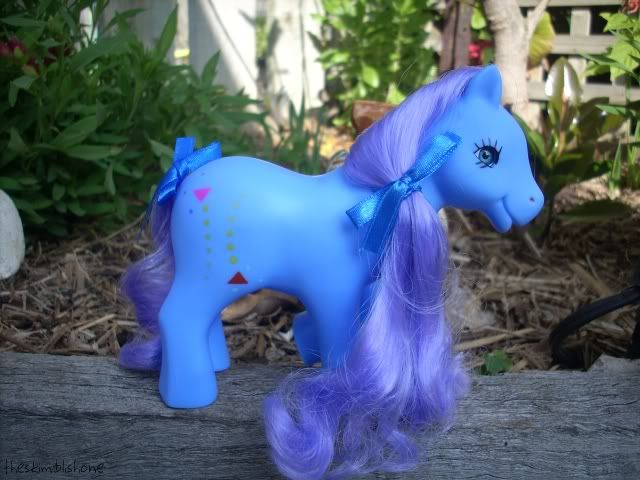 These ponies are usually released with matching
Fancy Pants Baby fakies in the Ember pose
to form a mother and baby set. The babies, however, are also released as single babies in the Horse Family Set. These babies don't have glass eyes (the Scandinavian releases are the only known babies with glass eyes) and have printed on nappies or diapers with purple stars and green dots. Most nappies are white, except for those on white babies, which are a very pale blue: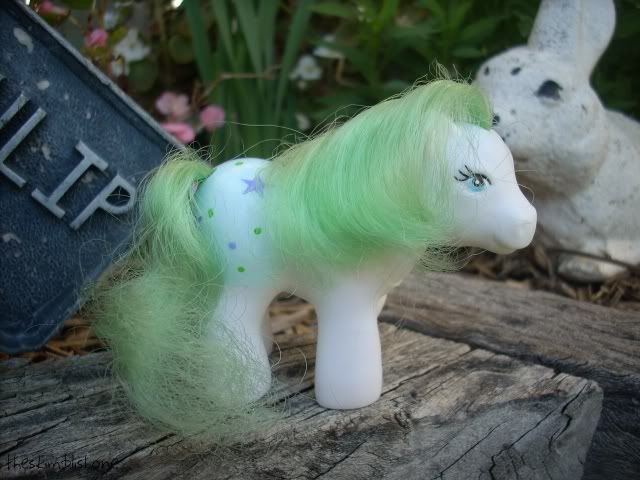 The
Adult pose
is a brand new pose from the Horse Family Set, standing slightly taller than the Dream Pony pose, with rounder hooves and the head turned slightly inward and held higher. The undersides of their hooves feature the words 'Made in China' and 'L-04-B2A' printed around the outside of their rear hooves in a circle shape, which makes this pose very easy to identify from the Dream Pose variants, which only feature 'Made in China'. (Pics of hooves to come...)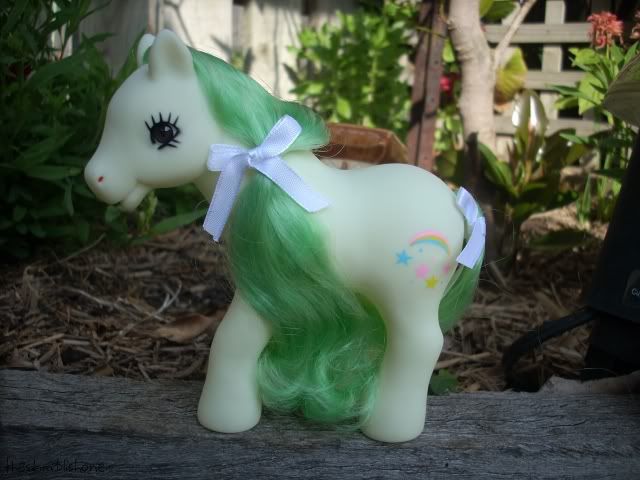 The
Teen pose
is another new pose from the Horse Family Set, mid-way in size between the Lady Babies and the Adult pose, with oddly long and bent legs, and an oversized head directly stolen from the Adults: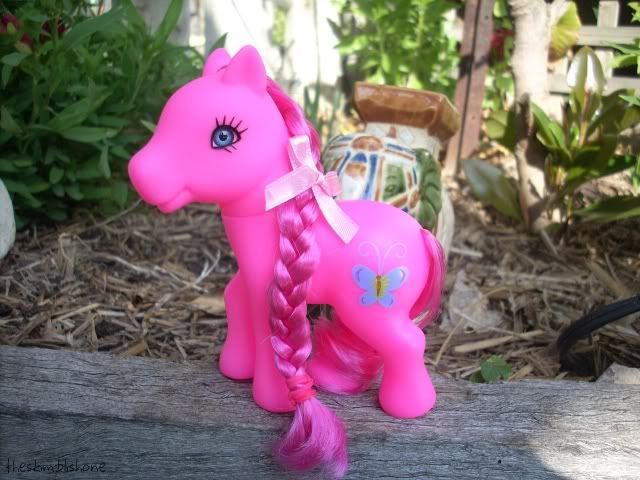 The
Lady Baby pose
from the Horse Family Set is a very common re-use of the vintage Lady Baby pose, common to many, many international fakie sets including the Together Friends babies, the 'Pony' Wedding set, the various UK/UK carousel Family sets, and many odd single babies from the UK. This pose is virtually a baby version of Hasbro's Sweetheart Sister Ponies; they never have glass eyes.
The
Circus Baby pose
is another very common pose with a multitude of international releases (UK Baby Twin sets, the 'Pony' castle from Scandinavia, many US mother and baby sets) based on the vintage babies from the Circus Pony and Baby sets. This pose is a baby Merry Go Round Pony with a molded on, painted blanket which can vary in colour. These babies never have glass eyes, and are usually released in matching body and hair colours to their mothers.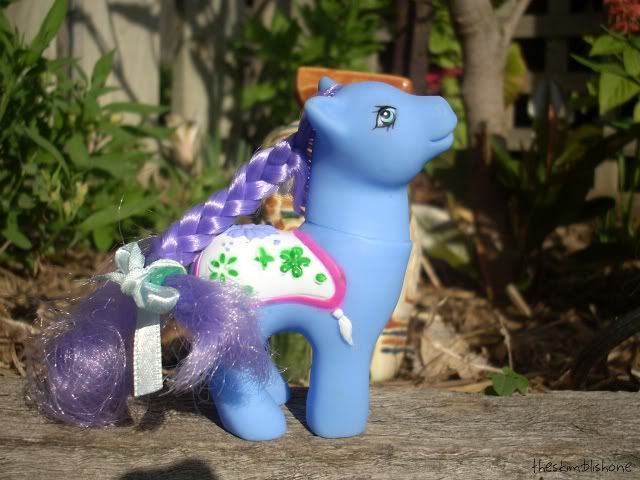 While these babies have other kinds of mothers in other sets, in the Pretty Pony Family sets the Circus Babies were released with non-talking variants of the
Talking Pony pose
, which is a common post-2000 pony pairing. These are ponies based on the original vintage Talking Ponies, and feature molded on bridles (that may or may not be painted) and inset glass eyes. Unlike all the other Walgreens adult/glass-eyed ponies, they are the only ponies to feature eyeshadow:
The photos below are a quick, easy reference to which ponies came in each set (and how they differ from each other), and what the poses are. (Apologies for the red text, it somehow saved as incredibly blurry and I didn't notice until after I'd uploaded the photos...)
Pony Land Pretty Pony Family: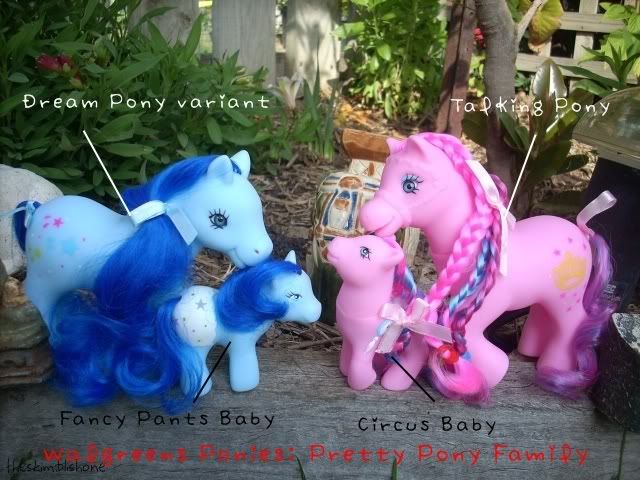 Dream Collection Horse Family Set: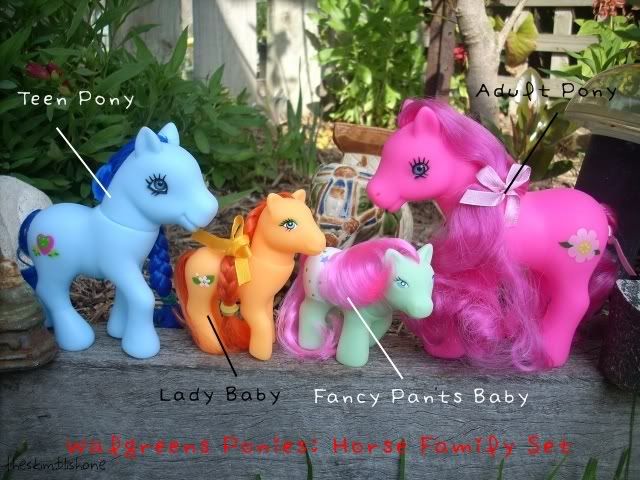 This thread will eventually be updated with pics of other kinds of fakie sets released in the same poses, so keep an eye out!
The
extremely
pic heavy, even by the standards of this journal. Be warned!
Perhaps the most famous of current in-store fakies, the eight sets known to collectors as 'Walgreens' Fakies' are in actual fact two separatly branded collections of four fakie sets sold in Walgreens, manufactured by Gigo Toys and distributed by the East West Distributing Company. They began to be retailed in the second half of 2008, and as of this journal entry, are readily available in most Walgreens stores throughout the United States. Like most current in-store G1-styled fakies - notably the UK Together Friends ponies, other UK/US ponies sold under the 'Pony Land' label, and the many Scandinavian 'Pony' sets - they feature quality manufacturing, with well-made molds, accuately printed symbols, and silky nylon hair. Like all of the above sets, these fakies are generally released with similar kinds of accessories (often just varying in colour), use the same molds, feature glass-eyes, and feature
reuse of many of the same symbols.

The Dream Collection: Horse Family Set is not, technically, a family, but features an adult pony, a teen pony, and two babies - one Lady Baby pony and one Fancy Pants Ember-pose Baby pony. There are four different versions, featuring four different ponies in each pack (although a couple of the Fancy Pants babies are reissued from the acompanying Pony Land: Pretty Pony Family sets); each set is accompanied by much the same accessories, although with some small variation in the colours of the beads and hair elastics. This set features two brand new molds that are not variations or adaptations of the Australian/European 1990s fakies, but all the others are copies or varations of those earlier molds.
The four MIB sets are shown below: photo thanks to Shellebelle!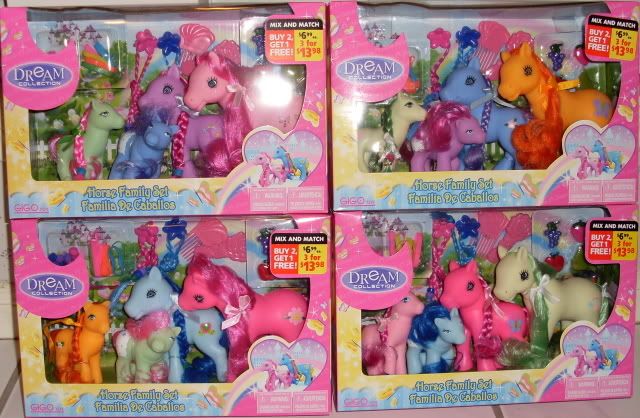 Accessory close-up: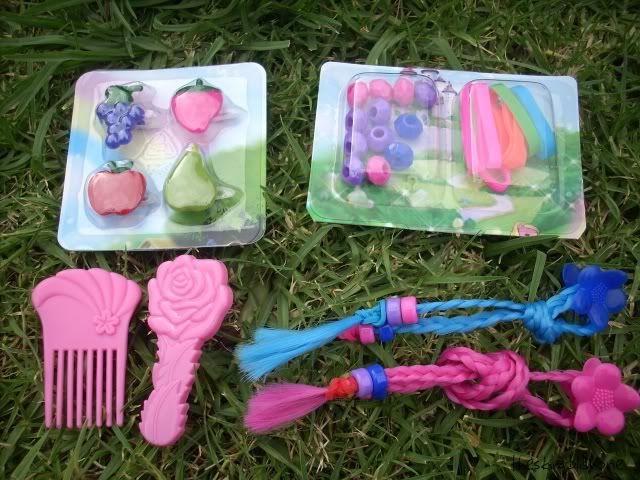 Set One features a pale pink adult pony, a purple teen pony, a green Lady Baby and a blue Fancy Pants Baby: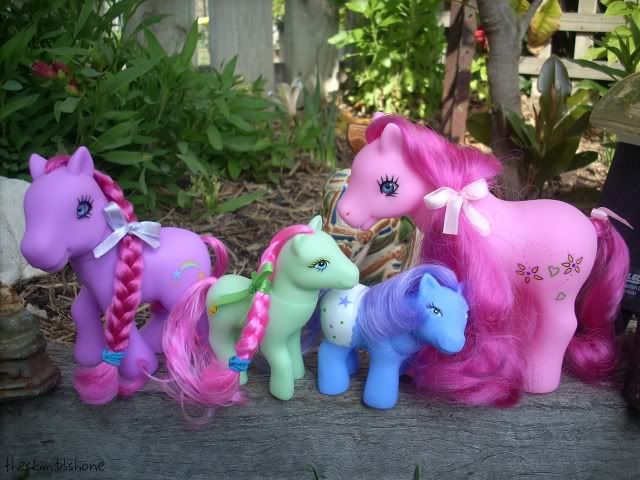 Set Two features an orange adult pony, a dark blue teen pony, a cream Lady Baby and a purple Fancy Pants Baby (please note: the blue teen was accidentally switched with the dark pink teen for the photos! See the
actual combination of ponies here
until I take new ones!)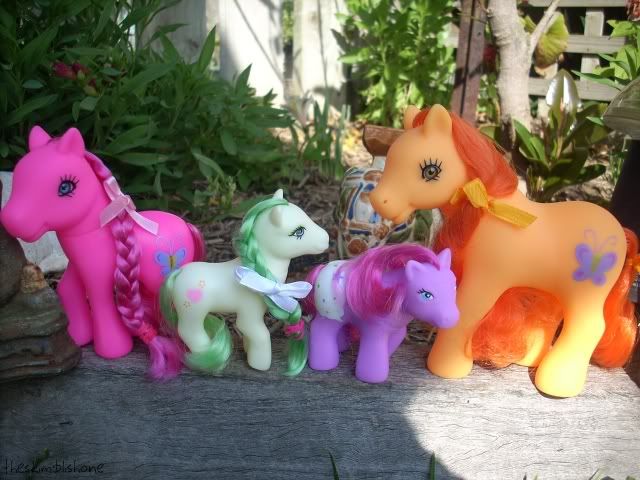 Set Three features a dark pink adult, a pale blue teen, an orange Lady Baby and a green Fancy Pants Baby: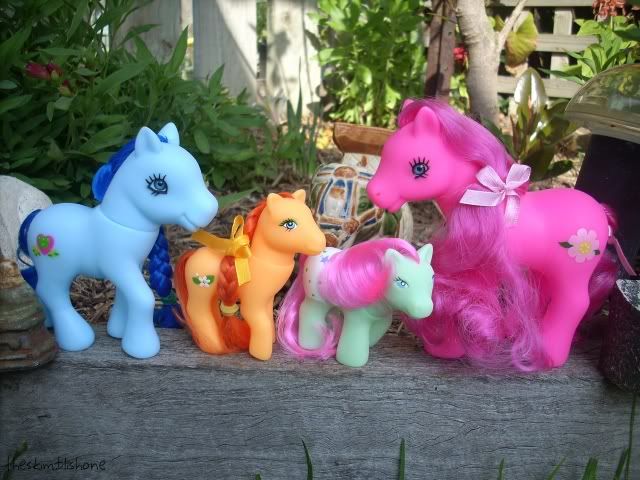 Set Four features a cream adult pony, a dark pink teen pony, a pale pink Lady Baby and a pale blue Fancy Pants Baby (please note: the dark pink teen was accidentally switched with the blue teen for the photos! See
the actual combination of ponies here
until I take new ones!)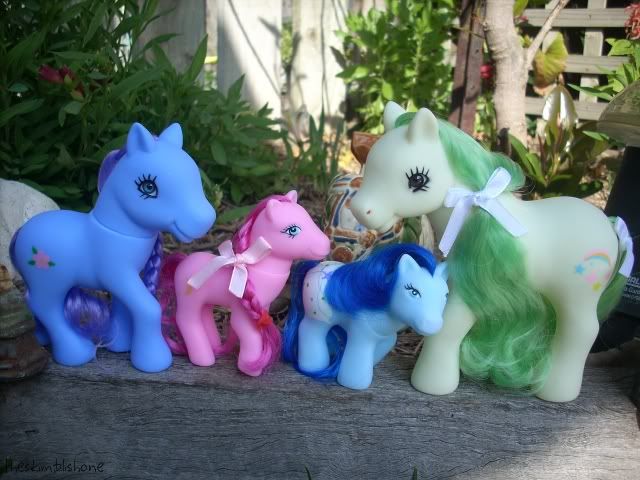 Set 3 is perhaps the most interesting set, due to two rereleases or variations of that set. A version of that set has been discovered with a fancy pants orange Lady Baby, replacing the usual white-lotus-flower symbol. Photos thanks to Kanthaka!
MIB: you can just see the part of the printed-on diaper!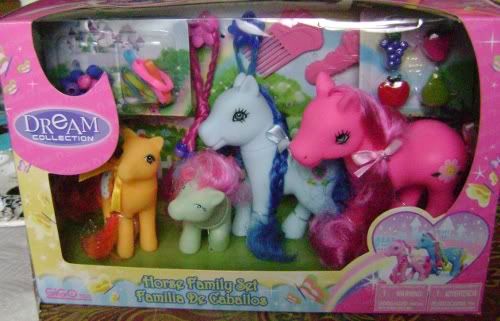 Close-up: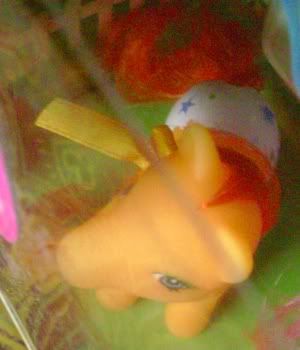 Kanthaka has kindly given me the variant/oddball Fancy Pants Lady Baby, so look out for glamour shots of her here when she arrives!
The other version of the Set 3 family is even released by another company and has even more differences. This set is called 'Pretty Pony Family' and is released under the brand name 'Kids Connection'. I suspect from the plain packaging that 'Kids Connection' is the in-store toy brand for a US department store, but proof of this (and any info on the manufacturer or distributor) would be very appreciated! ) Three of the ponies below are variations of the Horse Family Set with different symbols; the green Fancy Pants Baby, however, has been replaced by two new ponies - a pale pink teen and a purple Dream Pony/CPK hybrid.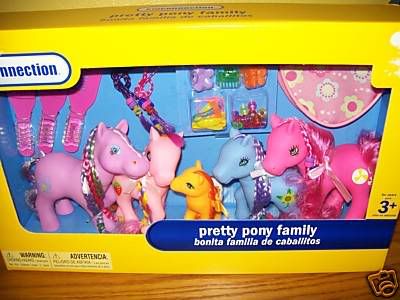 The Pony Land: Pretty Pony Family sets are four different sets comprised of two mother and baby pairs: a matching Talking Pony and Circus Baby set; and a matching Dream Pony variant and Fancy Pants Baby set. Each set is accompanied by the same accessories (very similar to those in the Horse Family Sets), but with different coloured brushes for each set - each brush and comb matches the body colour of the Dream Pony-and-Fancy-Pants-Baby pair! There is again some variation in beads and elastics. The Dream Pony is another new mold introduced by these sets, featuring the Tootsie-pose body of the Dream Ponies with a new, updated head (very similar to that of the adult ponies) with glass eyes. These sets reuse two very common pairings - Talking Pony and Circus Baby; Dream Pony variant and Ember-pose newborn (any type) found in many other mother-and-baby fakie sets.
The four MIB sets are shown below: photo thanks to Shellebelle!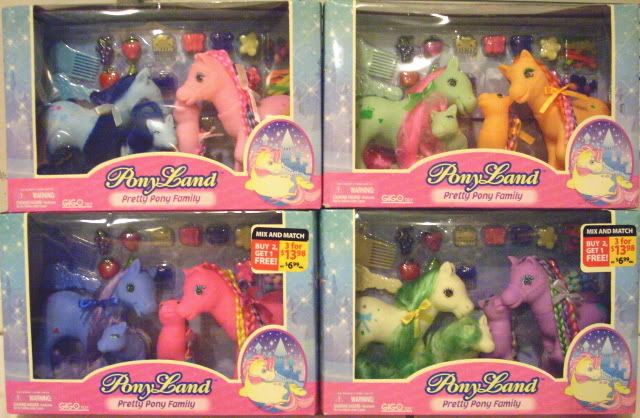 Accessory close up: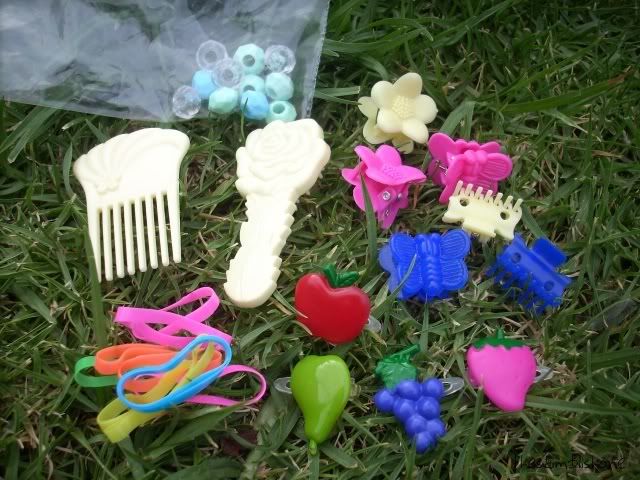 Brush and Comb Sets close up: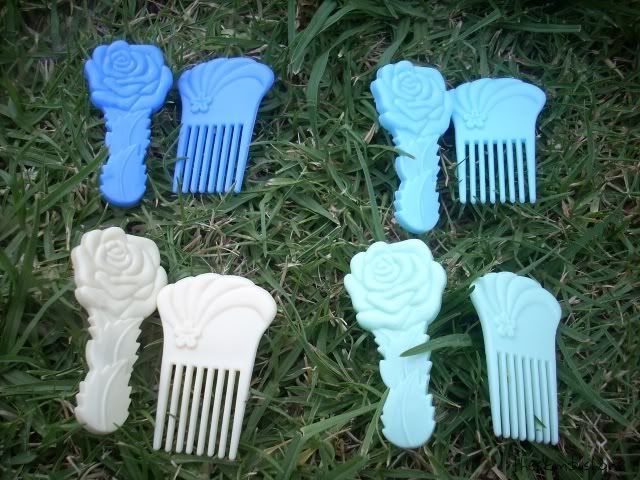 Set One features a pale blue Dream Pony and FB Baby pair; and a pale pink Talking Pony and Circus Baby pair, accompanied by the pale blue brush and comb set: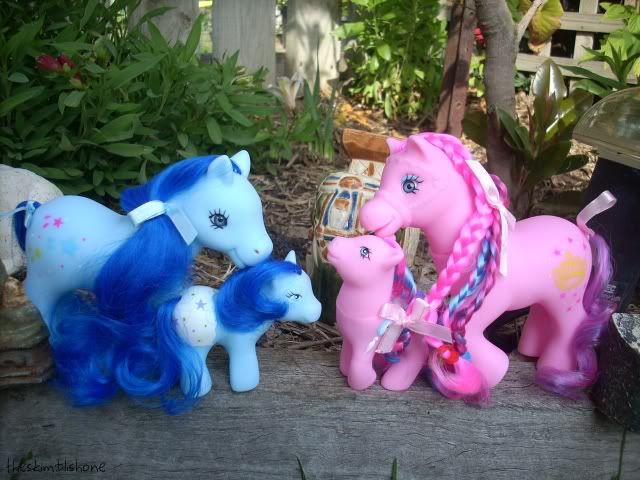 Set Two features a pale green Dream Pony and FB Baby pair; and an orange Talking Pony and Circus Baby pair, accompanied by the pale green brush and comb set: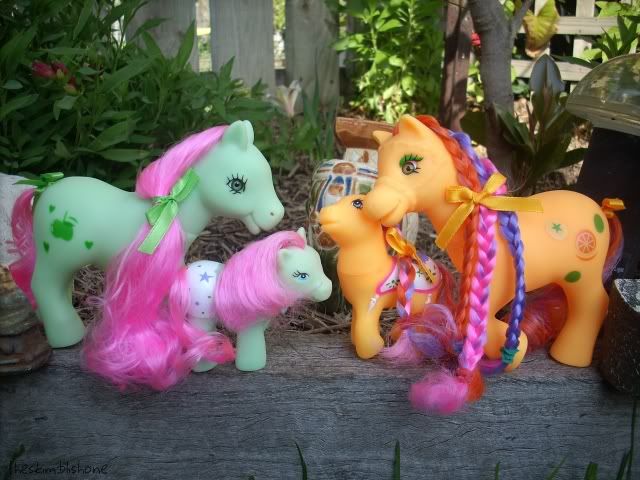 Set Three features a dark blue Dream Pony and FB Baby pair; and a dark pink Talking Pony and Circus Baby pair, accompanied by the dark blue brush and comb set: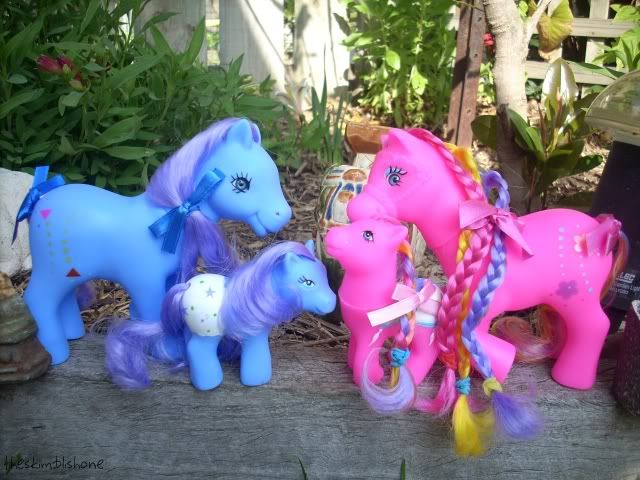 Set Four features a cream Dream Pony and FB Baby pair; and a purple Talking Pony and Circus Baby pair, accompanied by the pale yellow/cream brush and comb set: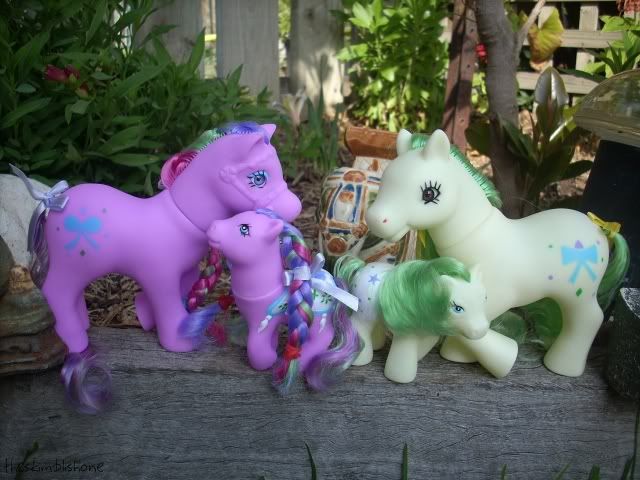 There have been other, similar sets of ponies found second hand in the US that feature matching Talking Pony/Circus Baby and Dream Pony variant/FB Baby pairs (I'm waiting on a few I have bought to arrive, so this post will be updated with pictures when they do!) These may or may not have been sold in Walgreens or released by Gigo Toys, so any MIB pictures of these ponies in different colours would be very welcome. I suspect that they may have been released by the same company/brand name, just at an earlier date, and perhaps through a different chain of stores.
Because these fakies are currently readily available to US collectors, they're not hard to find either brand new or even second hand.
This post owes a huge shout-out to Shellebelle, who purchased all eight fakie sets (that's twenty four fakies!) from her Walgreens and sent them all the way to me in Australia as well as taking MIB photos for me, and to Kanthaka for continually scouring ebay for interesting MOC photos, and alerting us all to that wonderful Lady Baby variant. None of the information here would exist without you. Thank you so very much!
The following post is
As mentioned in the
rerelease overview
, the rereleases bring us an entirely new pose, a hybrid pony that fuses the Tootsie-pose body of the Dream Ponies (in two known cases, this literally involves body
and
symbols) with a smaller version of the head of the Cabbage Patch Kids: Magic Meadow Pony
fakie
s. If this sounds confusing, it is.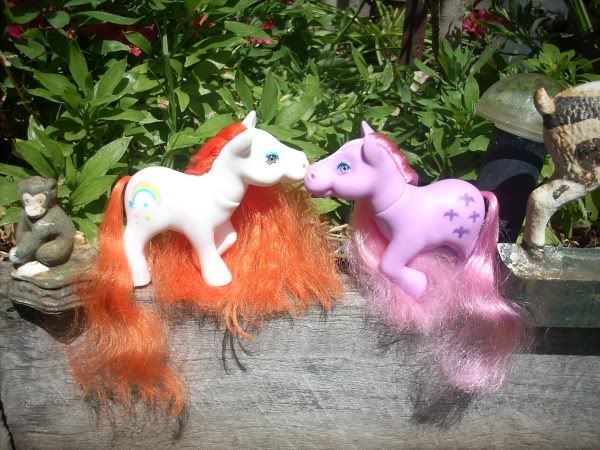 Although the scope of this journal does not (yet) intend to cover either CPK Magic Meadow Ponies or their fakes, a short introduction really is in order. The Magic Meadow Pony line was made by Hasbro as a part of the Cabbage Patch Kids range, and are basically larger, chunkier My Little Ponies, often featuring glittery bodies, coloured markings or symbols, and brushable hair.
lanardmainsail
posted a pic featuring
both the CPK ponies and a fakie
version in the fakie community (see the back row of ponies). The photo below (sourced from ebay by Shellebelle) shows the size and shape difference between the CPK fakies and the hybrid fakies (see top row). The larger cream pony (second from left) is the CPK fakie; the two pink and purple ponies (pair from right) are newer releases of the hybrids. They have similar heads, but their bodies and size proportions are entirely different.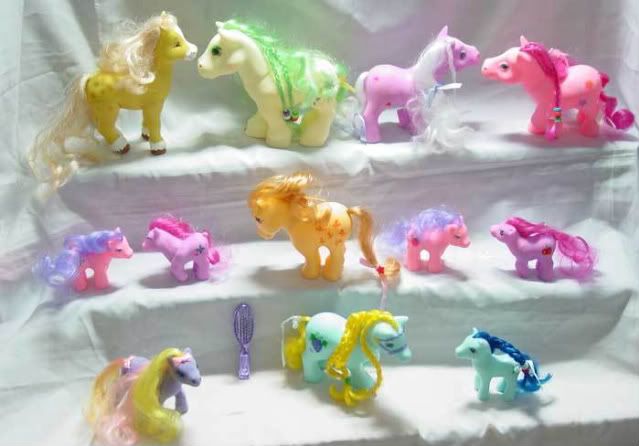 The fakies of these ponies are pretty similar, except they are always all earth ponies, usually have single coloured hair and rump symbols, and share the brand new fakie feature - the inset glass eyes. (The eyes, arguably, should make them a part of the rerelease fakies and this journal, and indeed some of the fakies I collect have been sold with them. Since I don't much like them and don't collect them, however - they're much bigger than the ponies of my childhood and aren't direct releases of vintage fakies - I'm going to ignore them for the moment.) What is important, for the purposes of this journal, is their heads - large with forward-pointing ears, long noses and very prominent round cheeks, glass eyes with eyeshadow, are completely different to the smaller Dream Pony heads.
(As soon as I get a day of good weather, I'll take a comparison photo featuring the heads of a vintage Dream Pony and the newer hybrids...)
The heads of these fakies, shrunken slightly so they scale better (but not completely) to the Dream Pony body mold, replaced the original heads to give us an entirely new pony. What is interesting about this is that I believe they are amongst the earliest of the rereleases - I have memories of seeing the purple/pink pony featured above sold with a toy hair accessory kit sometime in late 1995-1996, not long after the vintage ponies vanished from stores. Back then, my sister and I shuddered at the eyes and new heads, so different to our vintage darlings,and never bought them - the pair above were gifts from the awesome Collector1. From the feel of their plastic and, most importantly, their texture of their hair (vintage hair is drier; hair on fakies manufactured after 2000 is decidedly silkier, most likely due to age rather than difference in nylon) these are likely 'vintage' rereleases.
Due to their eyes, however, and the huge change in the Dream Pony pose, these are most decidedly rereleases - the fact they were released so early has led to the slight amendment in category date.
As far as I am aware, all of the 'earlier' hybrids (because there are additional post-2000 releases, ponies released in mother-and-baby sets with fancy pants baby ponies) feature single coloured, very
long
hair. In the case of four ponies I know of, the colours are decidedly monotone; the white hybrid pony is an exception in this and also her symbol. Her symbol, shown in better detail below, is a rainbow, and close to identical to the rainbow featured on some of
the Magic Pony rereleases
, which adds more weight to the theory that these ponies are the precursors to the rereleases on the market in the new millenium. My apologies for the glare, white ponies are hard to photograph in bright sunlight!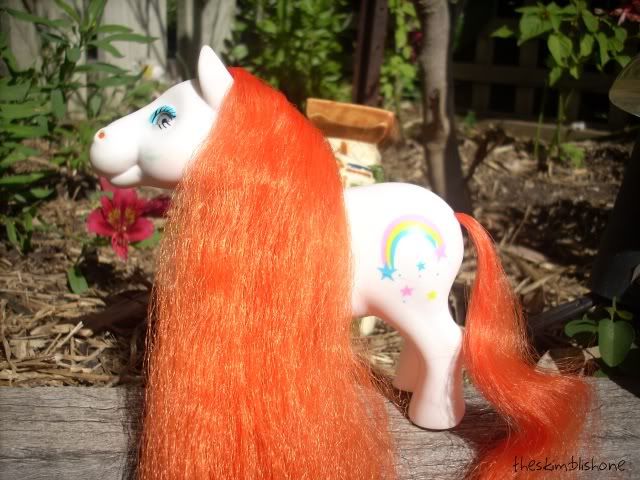 Three other known ponies, however, feature direct copies or variations of vintage symbols. The purple pony features the four-bird symbol of the
Pony and Baby
set and the yellow
Dream Pony
: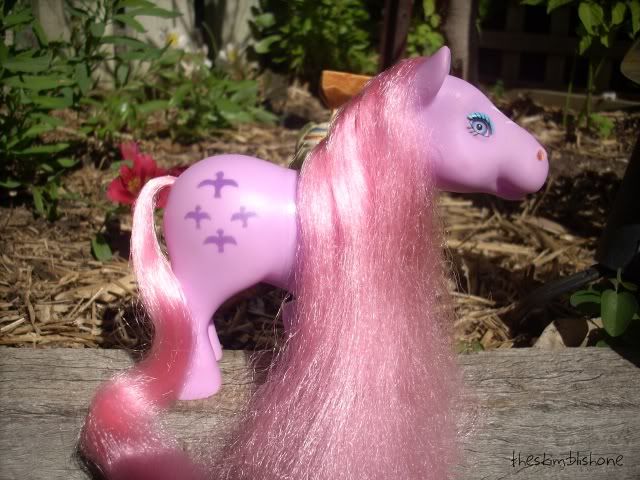 The photos of the three ponies below were taken for me by the fabulously awesome fairyheart on the Arena. (Hugest hugs to you for helping me out!) I actually own the blue ribboned one, but she is in a
very
sad state at the bottom of my bait bag, awaiting a rehairing and some serious restoration! Her symbol is a smaller variation of the ribbons on the 1st variation
Sister Ponies
: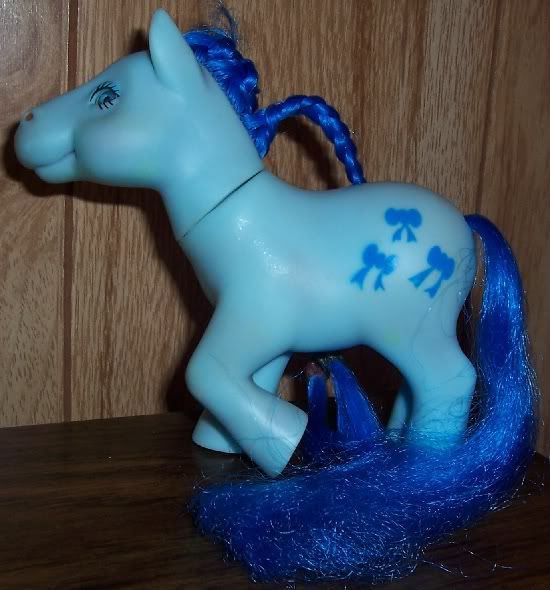 The yellow pony below is very nearly a direct copy of the
yellow shooting-star Dream Pony
, featuring the shooting star symbols of the fluorescent Dream Ponies. She has a much paler body and hair closer to a true medium or canary yellow, while the green of her symbols is closer to aqua than the dark green on my vintage Dream Pony. She is, nevertheless, surprisingly similar!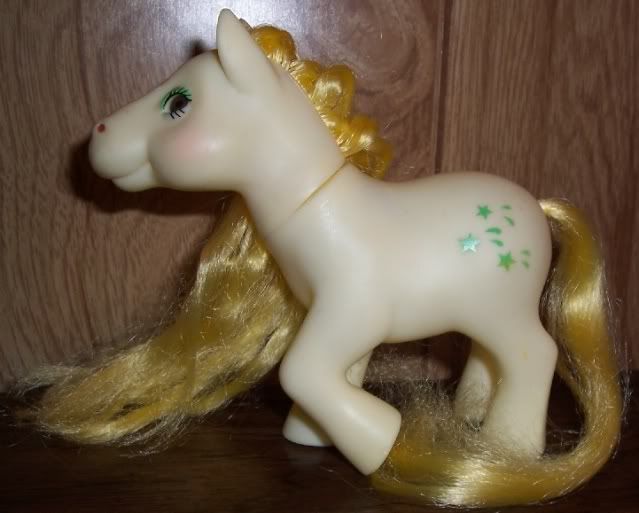 The last early hybrid that I know of is another interesting variant, because her symbol doesn't originate from the vintage or the rerelease G1-styled fakies, but from another source altogether - the giant CPK fakies. I actually own one of these, a childhood pony purchased in about 1993-1994, so yes, I will take pictures as soon as I get the next sunny day. They both share, however, the same umbrella symbol that was also sometimes featured on the Magic Meadow fakies (it's my understanding that the Magic Meadow fakies were the babies of the giant CPK fakies!):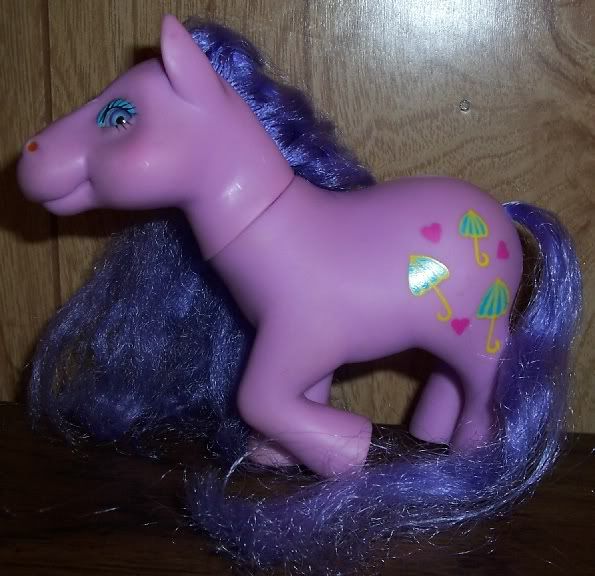 There are, of course, many more kinds of this fakie available - they are very common to ebay lots, particularly in the US. These, however, often featuring oddly unique and unusual symbols, were released later in sets with matching fancy pants babies, and will be covered in the next post. Telling the difference between the early and later hybrid ponies can be a guess at best - if the symbol resembles a vintage pony or shares a symbol with the CPK fakies, it is probably early. If it is a complicated and unique design involving multiple colours, it is most likely a later release.
Sadly, I have never seen any of these ponies MOC/MIB beyond that childhood sighting, and I do not remember their proper set names. (Probably a version of Pretty Pony Play Set!) If anyone has photos or information about the release names, locations and dates of these hybrid ponies, I would be very grateful to know! I believe that the pink-with-birds pony is an Australian release, however fairyheart's ponies come from the US and I suspect my white-with-rainbow hybrid comes from there as well, but it really is only guesswork.
Huge thanks to Collector1 and fairyheart for this post!
(Yes, believe your eyes - two info posts, two days in a row. We thinketh the worldeth hath endeth...)
The pegacorn
Magic Pony
rereleases are unique amongst rerelease G1-style fakies in that they are the only known adults to have been manufactured without the new fakie feature, inset glass eyes. Only released in the Tootsie varient pose (there are no known rereleases of the Princess Tiffany pose) they are, in fact, fairly similar to the original ponies, with the only major differences being the two-toned (oddly Colombian-like!) manes and tails, and the differences in symbols. Other, more subtle differences include
very
hard body plastic (where the vintage ponies are soft, squishy and huggable, these guys could really be used as projectile weapons) and always-matching eyes, eye-star and moon-and-star symbols.
In general, if your Tootsie-pose Magic Pony has three or four mane colours and you can squish the pony's legs, she is vintage; if she has a mottled two-tone mane and has a rock-hard body, she is a modern rerelease.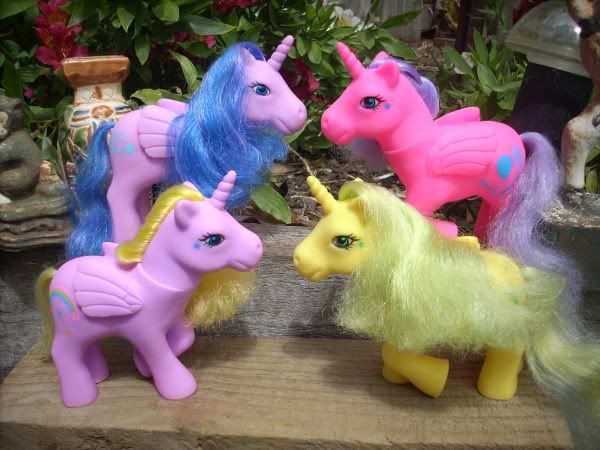 There are three known symbol variants of these ponies, shown in the pic above and in better detail shots below. The original
moon-and-stars
symbol is very little different from the vintage ponies - in fact, no different, other than a new tendency for the symbol to match the pony's eye and eye-star colour. The yellow Magic Pony below (given to me by the fabulous Shellebelle from the US) demonstrates this: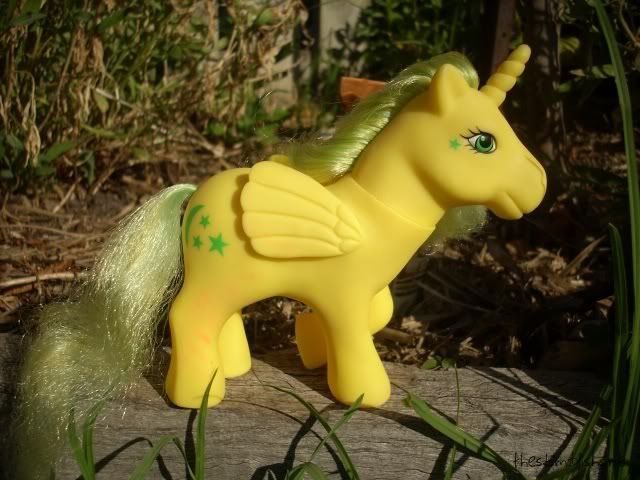 The
balloons-and-ribbon
symbol is entirely new, although does share some similarity with the balloons symbol from the
rearing Vinyl Ponies.
It is always printed in two different colours with small spots in a third colour, as shown below on the pink pegacorn, also a gift from Shellebelle: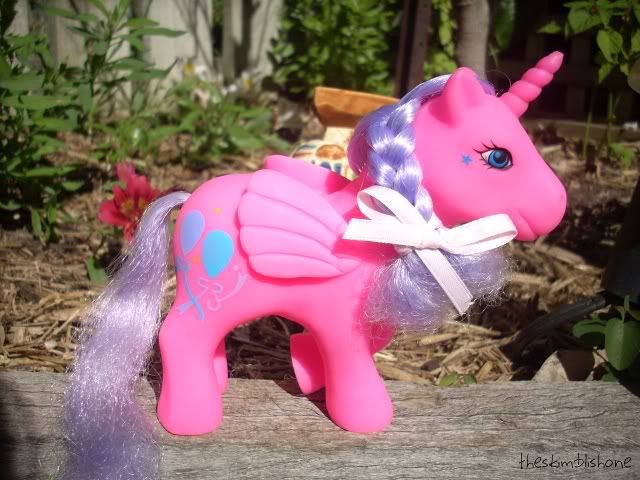 The
rainbow
symbol is, I think, my personal favourite, printed in four different colours. This gorgeous pony came from Playful Heart on the Arena/TP: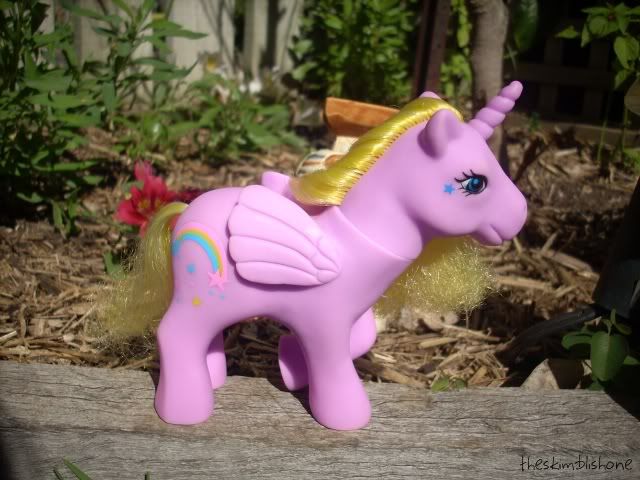 These fakies were predominantly sold in the United States, but have also been sourced from the UK and Scandinavia. Outside of Scandinavia (and the tireless fakie-hunting of the awesome
vettensponies
) I am not aware of any Magic Ponies still currently available in stores. It is my best guess that the US releases were sold somewhere around the early 2000s; if anyone could confirm that, I would be immensely grateful!
According to
Ahrian's Fakie Guide
, the US Magic Ponies were released in Dollar General stores under a name many fakie sets share in common - Pretty Pony Play Set. The white MOC pic below was snagged from her website, and features a comb in common with the Pony Land Pretty Pony set, and a yellow faux-silk ribbon.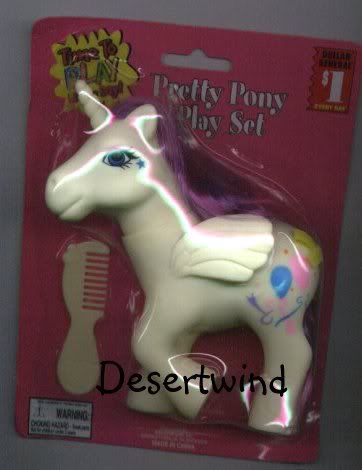 The UK Magic Ponies, however, are considerably more recent. According to
the
most awesome Vetten, who questioned the ebay seller the girl below was purchased from in the name of fakie reserach, these ponies were sold through Asda stores (and bear the Asda house label) as recently as last year. These ponies are called Pretty Pony Single, and come with a range of
accessories in common
to the pearly
Pony Land Pretty Pony
set as well as the comb in the above US Pretty Pony Play Set. (Anyone tired of the words 'Pretty Pony' yet?)
Huge thanks to Vetten for the photo below:
As you can kind of see, this pony features a fourth symbol variant again - a gorgeous three-coloured daisy-like flower. I would dearly love to see loose pics of this pony or any other Asda Magic Ponies if anyone has them to share!
Lastly, the Scandinavian ponies don't appear to be sold loose at all, but come in a set (like all currently sold Scandinavian fakies, sold under the name 'Pony') with two giant or styling fakies, two Lady Babies, and a dazzling array of accessories. From peering at the photo (again, thanks to Vetten sneaking her camera phone into TRU!) I believe the two Magic Ponies in this set have tinsel in their hair, otherwise the purple one looks similar to the one in the detail shots.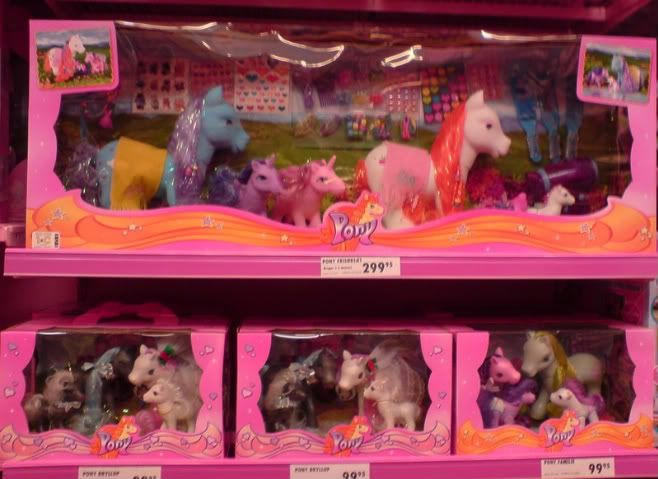 I honestly don't know how many variations of these ponies exist. For the US Magic Ponies, KnottyKitty posted a picture of
this gorgeous green pegacorn
with balloon symbols in the My Little Fakie community, while RainbowWindy posted
a yellow rainbow-symbolled pegacorn
in her sales page on the Arena. (This gal, alas, was sold before I got to her, so if any of the community members or my friends happened to buy her, or own another one of her, would you mind being awesome and taking a good photo of her to post her? Thanks!) Ahrian's Fakie Guide also features a photo of a
pink moon-and-stars pegacorn
. I also own a purple and blue moon-and-stars Magic Pony, who again came to me from the awesome Shellebelle: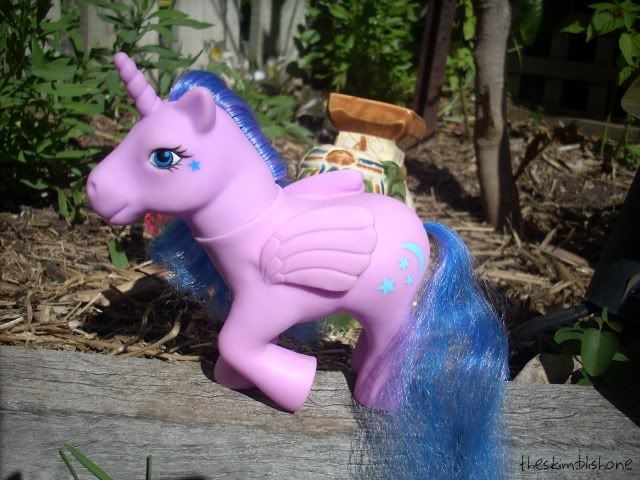 There really could be countless variations of the US ponies, and we have no idea how many of the Asda Magic Ponies beyond Vetten's cream pony exist, or what kinds of Magic Ponies have been released in Scandinavia. Any pics or info on other colour variations of Magic Ponies, vintage or rerelease, would be gratefully accepted!
This journal entry could not have existed without Shellebelle and Vetten, so a huge hug to both you guys for helping me out with ponies, pony info, and fab photos! A few pics here have been borrowed from other sources, so if their owners object to my using them, please let me know and I'll remove them straight away. Huge thanks also to Ahrian, for her fantastic fakie guide, it has been of immense help for this journal entry!
(AN: Yes, an update! Believe it or not, I finally have the time to get back to updating the info sections of this journal - die of astonishment, everyone! *clears throat and gets back to the serious business of fakie research*)
Plus, okay, she has the coolest accessories ever...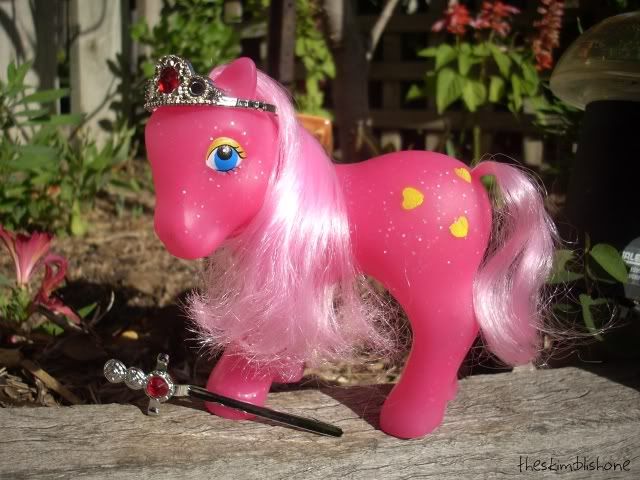 If there was one fakie who could take over Dream Valley, I'm betting this girl is it!
Here she is, as promised, freed from her card and oh-so-gorgeous! You know, I even like her eyes, despite the fact they're more like Remco eyes than Hasbro ones - she really is a wonderfully gorgeous pony, and her glittery body is just fantastic!
Current Mood:

content

Current Music:

Nothing Left - Delain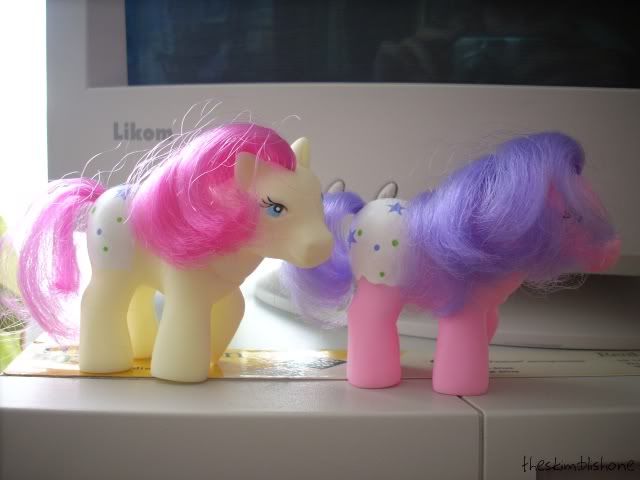 Even then, however, despite having a browse through Ahrian's website, the Fakie Safari Tour and brag posts by Arena members, I didn't really have any grasp of how vast and wonderful rerelase fakies were until - after a conversation about fakies in one of the swap threads - Shellebelle offered me a bunch of fakies she'd collected from ebay lots. This lot included three Magic Ponies, another
adorable
fancy pants baby, and a Circus Baby. That was it; I was hooked on the fancy pants baby fakies, and any other fakies I could find that looked so much like the fakies of my childhood!
Shellebelle kept an eye out for fakies for me from lots and thrift stores, becoming an awesome friend in the process, and I soon found other Arena members who posted fakies in their sales posts. Other Arena members kept an eye out for me, with many awesome people sending me fakies for only shipping costs or even as gifts, until the present - where my fakie collection has tripled in size over the last six months and I have too many awesome fakie-pals to count, collecting fakies for me. The majority of my rerelease collection has come from the US and the UK, but has also come from Australia, Portugal and Denmark. (For my money, Scandinavia has the most interesting and diverse selection of G1-styled fakies!)
Most of the US/UK release fakies are fairly common, and came from ebay lots or as thrift store discoveries. Only a few of the ponies in my collection were purchased brand new over the last four months, so I truly have no idea, for most of them, how or when they were released, or even in which fakie's company. Many of these fakies themselves have also been rereleased - in the case of my blue fancy pants baby fakie army, one baby was released with the Pretty Pony Family sets, one was released with the Horse Family Set, and I suspect they are also the babies of two different blue hybrid adults I've seen on ebay - giving me at least four different possible releases of the one baby!
Not all of the vintage ponies have been rereleased. Many - like the sitting and rearing Vinyl Ponies, the flocked Dream Ponies, Ballerina Ponies, Sister Ponies and original Circus Pony and Baby mothers - have never been remade. Others, like the adult Lady Pony pose, has been rereleased, but not commonly - they only had limited releases in the US and Australia, and are only currently in stores in Scandinavia. Still others, like Circus Babies, Lady Babies, Talking ponies and the newborn babies, are exceptionally common and have been released in any number of forms.
Even more interestingly, there are new ponies and poses to collect. The old Dream Pony pose has been given a new shorter, rounder head, while an entirely new pose features the Dream Pony/Tootsie body and the head of the CPK Magic Meadow Ponies. Both these ponies are often paired with fancy pants baby ponies as babies - another entirely new pony. These babies are manufactured in both the Ember/newborn pose
and
the Lady Baby pose. Lady Babies have also been manufactured with fruit and flower symbols, more similar to Hasbro Baby Ponies. There are also drink and wet babies and Ember-pose babies with symbols, fakies with a pearly-coating, and many different mother-and-baby sets!
Old friends returned include the Magic Ponies, the single-adult Circus Ponies (now with their own babies!), Talking Ponies and Nursery Baby Ponies. With the single exception of the Magic Ponies, all the adult rereleases come with a brand new feature - glass inset eyes, as featured on the pony below, the mother pony from the
Ponyland Pretty Pony Play Set
: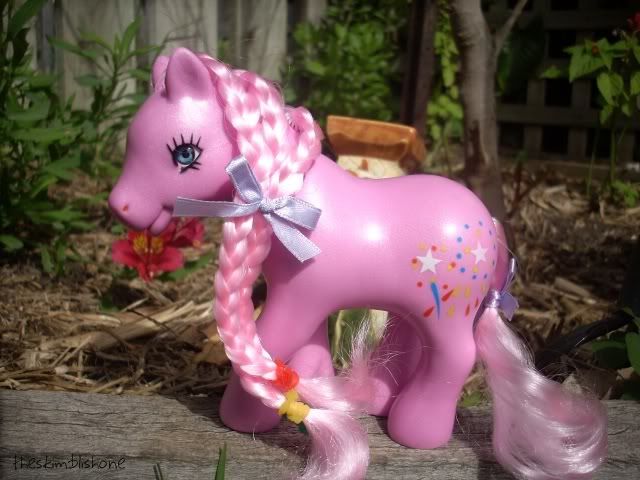 Some of the ponies - mostly the Talking Ponies - feature eyeshadow, but otherwise the eyes look completely identical between the ponies. Some of the Scandinavian babies also have inset eyes, but otherwise most babies have eyes identical to their vintage counterparts.
The really interesting thing about many of these ponies is the frequent re-use of identical symbols and body colours between releases, especially in ponies found both in the US and the UK. The ponies below all come from different countries, but feature identical symbols!
Drink and wet on the left comes from the US, set unknown; newborn on right comes from the UK, as part of the
Together Friends: Pair of Ponies
sets: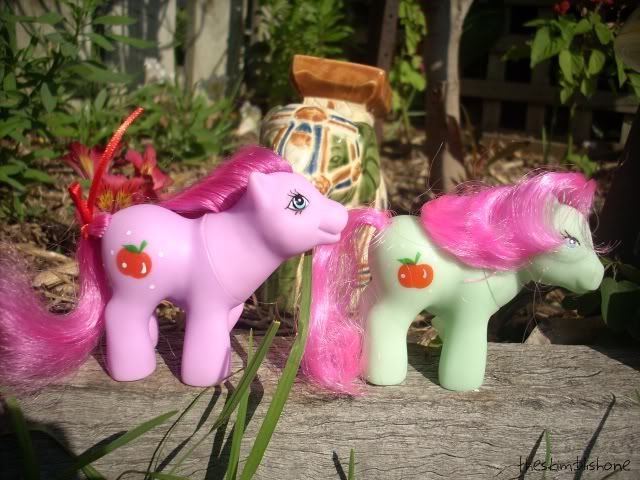 Newborn on the left comes from the US, set unknown; newborn on right comes from the UK, as part of the Together Friends: Pair of Ponies sets: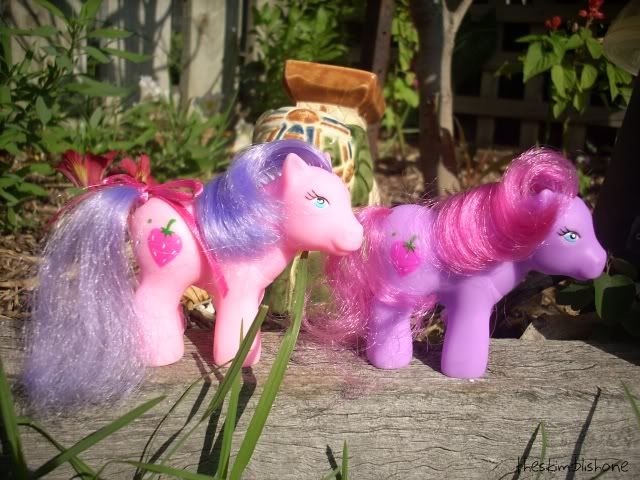 Lady baby on the left comes from the US (set unknown); Lady baby on the right comes from the UK (set unknown, but I suspect she belongs to the Together Friends family pack):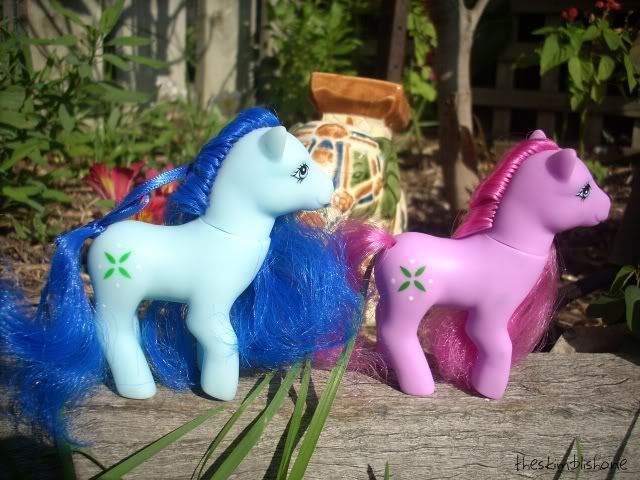 As well as a great deal of symbol-sharing, many ponies share identical body and hair colours, again despite the difference in country of origin. The two babies on the left come from the US (huge hugs to
ohsoboring
!) while the Lady baby on the right comes from the UK (huge thanks to Gaspode.) To make life more interesting, however, Shellebelle has also found that same baby in the US. However, I know she's been released in the UK (and was not just a transatlantic wanderer!) from the frequency I have seen her in ebay lots there.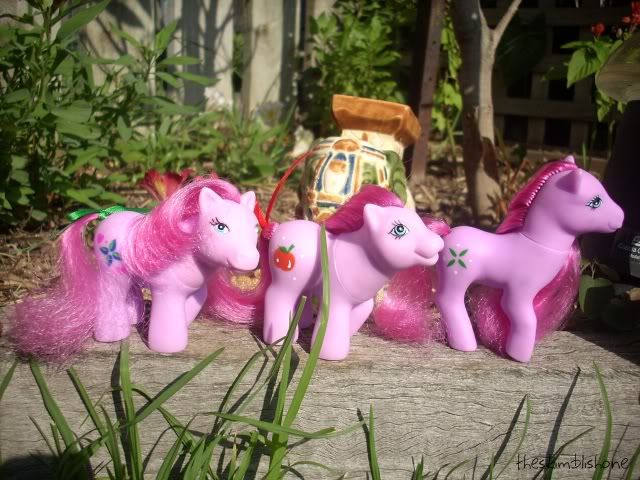 Even in the same country, the tendency to re-use body and hair colours is astonishingly frequent. The pic below demonstrates the startling range of fakies available in the one colour scheme. From left: Circus Pony variant; Circus Baby variant; Lady Baby (from the
Horse Family Set
); Mother Pony and Fancy Pants Baby (from the
Pretty Pony Family
sets) and an Adult Pony (from another Horse Family Set.) All of these ponies originated in the US, but to make this even more confusing, I also have a pineapple-symboled Lady Baby from the UK's Together Friends sets in the same colours,
pictured here
.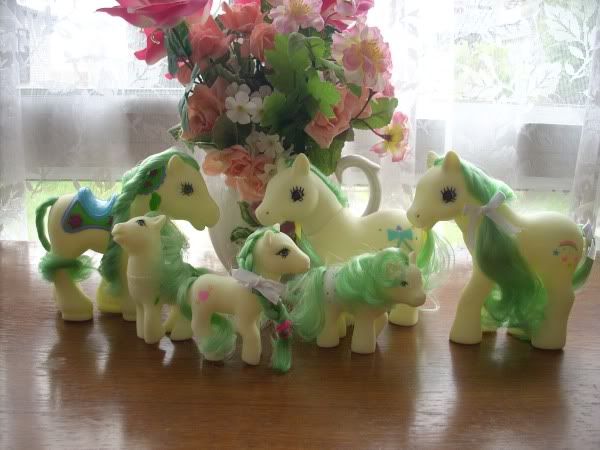 If the ponies are similar, there is also a marked similarity in accessories as well. I only own the complete accessories for three sets of ponies, but these and a set posted by the awesome
vettensponies
show a trend of using the same kind of beads, hairclips, hair extensions, combs and brushes. The flower shaped clip (with or without hair extensions) and the thick coloured hair ties are common to all four sets of accessories, while all of them also feature beads. The 'Pony' pony family set also features the same combs from the Pretty Pony Family and Horse Family Sets. The really fabulous thing about these acessories are, in my opinion, the fruit-shaped hairclips...
Pony Land Pretty Pony accessories: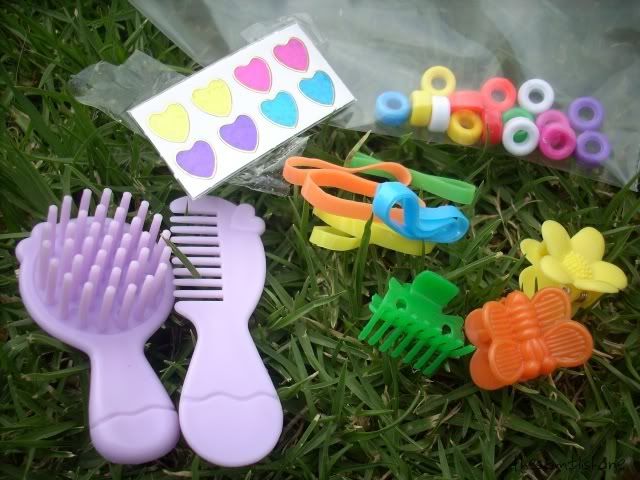 Pretty Pony Family accessories: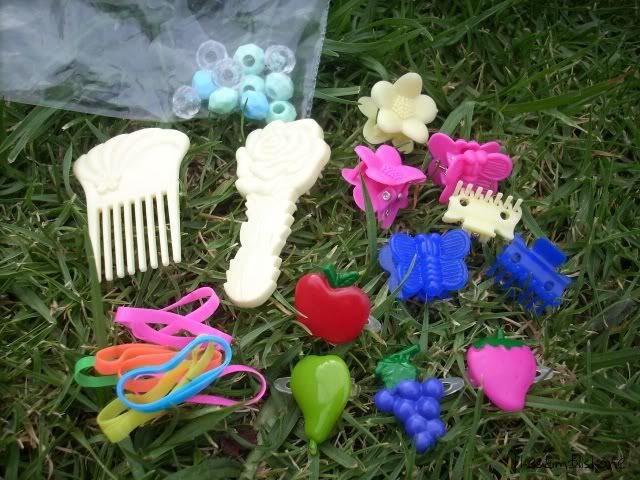 Horse Family Set accessories: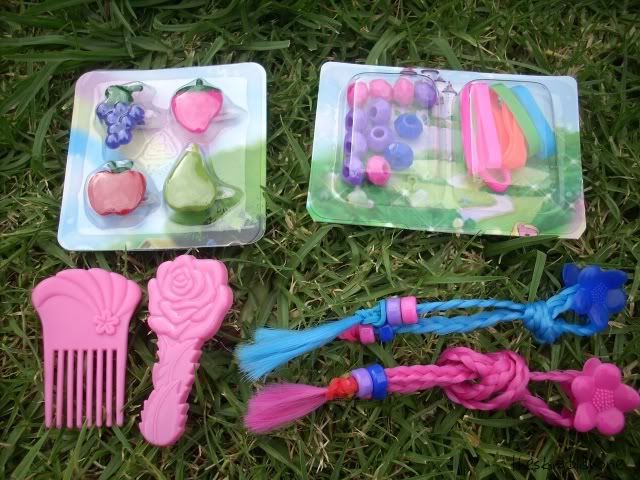 From the 'Pony' Pony Family (huge thanks to Vetten!):
The Horse Family Set and Pretty Pony Family sets also feature brightly coloured rereleases of the vintage baby pony
rose-shaped brushes
. The difference between the vintage and the modern brushes is very easy to tell, because the vintage brushes are always pale pink, while the modern brushes are bright pink in the photos above, and have been released in lemon, pale green, pale blue and dark blue with the Pretty Pony Family Sets:
These brushes (and also the comb!) have also been photographed with prototype Talking Pony and Baby sets on the Pony Land Pretty Pony backcard below - thanks SO much to
ohsoboring
for giving me this! The interesting thing is that none of these prototypes have correct mane colours, nor do they look like the ponies actually released on this card...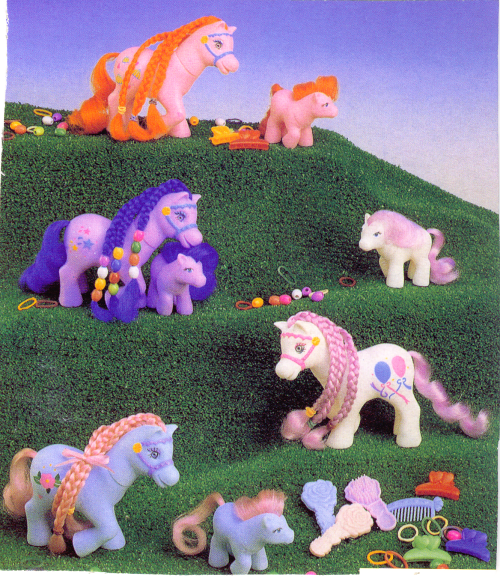 Due to the similarity in symbols, body/hair colour and accessories (I plan to dedicate specific posts entirely to the topic of shared symbols!) and the frequent similarity in set names, I do wonder if many or all of these fakies were actually manufactured by the one company in China, and are simply distributed regionally by different companies - or by the same company under different branding names. Many of the body and hair colours of the ponies, despite being released in two different countries, are just far too
identical
to be explained away by luck. We're talking identical dye batches, body hue and hair texture in a lot of cases, which is far more similarity than many Nirvana ponies own. Two American sets - the Horse Family Set and the Pretty Pony Family set - were manufactured by the same company, Gigo Toys, and released in the US by the East West Distributing Company. I suspect, from the similar name and artwork, that the Pony Land Pretty Pony Play Set might come from the same manufacturer.
Obviously, ANY MOC photos of these ponies (plus any other rereleases which will be featured in this journal) will be of great help in trying to figure the cause of such frequent similarity ... and will earn you my absolute undying gratitude!
Identifying the rereleases can be hard. Thankfully, there is little worry about confusing the vintage and the new adult ponies. American ponies aren't vintage, as the vintage ponies were never released there. Any adult with glass inset eyes is modern, except for the Magic Ponies, who have very different mottled two-toned hair from their vintage counterparts. For the babies, it is a little harder - some Danish babies in particular I am even unsure of, since they were not released in Australia but are clearly not modern. Other Danish babies look frighteningly identical to their vintage sisters, in the case of many ballerina or Nursery Baby Ponies. However, there is a tendency for the modern babies to be made from brighter colours and harder plastic, and any Ember-pose baby with a symbol or single-coloured hair is a rerelease.
These ponies are still most definitely in stores today (just wait until I make a post about the Danish fakies, Vetten took photos in TRU for me!) and have a marvellous tendency to invade many an ebay lot or thrift store pony bag. Ironically, since Australia seemed to be the heart and home of the vintage fakies, we have had the modern ponies released only very sparodically here, and currently there are none at all on shelves in toy stores within about a fifty kilometre radius of me - while in the UK, US and Scandinavia, they're pretty easy to find, both brand new on the shelf and second hand.
Finally, this post owes a huge, massive shout out (and possibly free, unlimited alcohol and chocolate for a year) to Shelle, Vetten, Kanthaka and missvelika, who have provided all the photos that aren't mine in this journal entry, as well as providing many of the ponies and the information referenced here ... and in any and every future journal entry about the modern fakies. (Most of them wouldn't exist without you guys ... goodness knows I wouldn't know anything about Danish fakies without you, Vetten!) The time you've taken to answer questions, take great photos (sneak camera phones into TRU...),
find
photos for me when I was a noob and forgot to save them, and collect fakies for me is just astounding. I wouldn't have half my fakie grails if Shelle didn't keep PMing me cool auction links to drool over! You guys, and everyone else who's helped feed my fakie addiction by collecting for me, are the heart of this project. It couldn't and wouldn't exist without you, and is so fantastically better for every way you've helped me. Thank you so incredibly much!
My first rerelease fakies were gifts from the awesome EminentZephyr, just when I first joined the Arena. Aside from a few pony sets that had been released, few and far between, in Australia, I had absolutely no idea about the large variety of G1-styled fakies that had been released overseas until I saw the babies she had for me - fancy pants baby fakies, in the too-adorable Ember/newborn pose of some of my childhood babies. I couldn't believe my eyes when I saw them and reunited them with my fakie herd!
childhood vintage fakies.
I frequently use the term 'rereleases' to describe these ponies - modern variations of the G1-styled ponies I collected as a child. These newer versions still continue the spirit of G1 MLP, often in ways G3 ponies don't, but also have some unique features and a charm all their own.
Making any kind of a study (because isn't this what this journal is?) of these fakies is difficult. Deciding what fakies do and do not fall under the 'rereleases of my childhood ponies' banner is tough at best because there are two known versions of the Tootsie/Earth pony pose that have changed heads, and one odd fakie that has an entirely unique body, but a Circus Pony head. Also, many of these ponies are released in family sets
with other ponies
, particularly the two CPK-type fakies, which were never released by the company that made my childhood ponies. For that purpose, my collection (and the photos) feature two types of poses that aren't based on vintage ponies. However, because they have been included in sets featuring rereleases, and because they have feature the symbols and colour schemes so common to these fakies, I've made the decision to include them. (Also, just because I like them. While the CPK fakies also follow this rule to a slightly lesser degree, I don't like them so much, so I'm not collecting them. I admit I'm biased, but I also have space issues!)
Another difficulty is the fact that these are released by many different companies, internationally. In the UK, some are marketed as 'Together Friends'; in the US, some are 'Pretty Pony Family', 'Horse Family Set' and 'Pony Land Pretty Pony'. In Scandinavia, they're just 'Pony'. My Pretty Pony, My Lovely Pony, and many different variations of, are extremely common set names. Some ponies aren't even released in pony sets at all, but are extras with some dolls. Keeping track of what fakies have what names is difficult, particularly when many are made in identical body and hair colours and have similar or identical symbols. I also only have knowledge about ponies I own that were MOC; since most of my fakies have come from lots, from Europe, Australia, the UK and the US, I've got no information about their set names, when they were released, who they were released
with
, and what accessories came with them. That I have this info about some ponies is due to the kind and wonderful people who gave them to me; sadly, the disinterest in fakies as a serious area of pony collecting until fairly recently means that release dates, manufacturer, set name, brushes, accessories, backcards, prototype photos, the actual sets themselves and the place of release has all been forgotten and never recorded. Until now, it was never considered revelvant. Even the fakie guides available on the internet (few and far between) always speak of fakies with reference to MLP sets and releases, and not with reference
to the fakies themselves.
(It goes without saying: I would dearly love any of this information should anyone have anything, even simple speculation. Most of this journal is built on speculation, after all!)
In short, my knowledge about these fakies is minimal. Most of these weren't available in Australia, and I have collected them over the past year with the help from many awesome Arena and TP members and friends - and most of these came from ebay lots and thrift stores, so even those who are collecting for me overseas know as little about the fakies as I do. Except for those which were MOC (thanks so much to
the_shellebelle
,
ohsoboring
,
vettensponies
and missvelika for what knowledge I have!), I can only refer to these fakies with regards to my vintage fakie terminology, and not their actual set names or even their actual sets, as erroneous as this is. Half the mother and baby sets I have are ones that I've made up because hair and body colours match, but as you'll see, many fakies of this type employ the same body colour/hair/symbols, so even this is guesswork at best. Thankfully, there are so many
awesome people
now keeping an eye out for fakies, this lack of information will not be a problem in the future!
There are, of course, many different types of fakies released in the (gasp!) 14 years since 1995 - Lanards, Tara Toy ponies, Remcos, fakie Remcos, and any number of fakies released from little or unknown companies in China and marketed through discount and department stores. While a really good study on fakies in general is desperately needed in the pony collecting community, this journal isn't it. What I will be doing, however, is looking at the many different kinds of fakies released since 1995 (but largely in the years 2000-present) that use the poses and styles of my